FREE eBOOK: How To Achieve More in 2017 – Jam-packed with exclusive insights from: Dave Ramsey, Tony Robbins, Marie Forleo, John Maxwell, Chris Brogan and 20 other HUGELY successful entrepreneurs and leaders..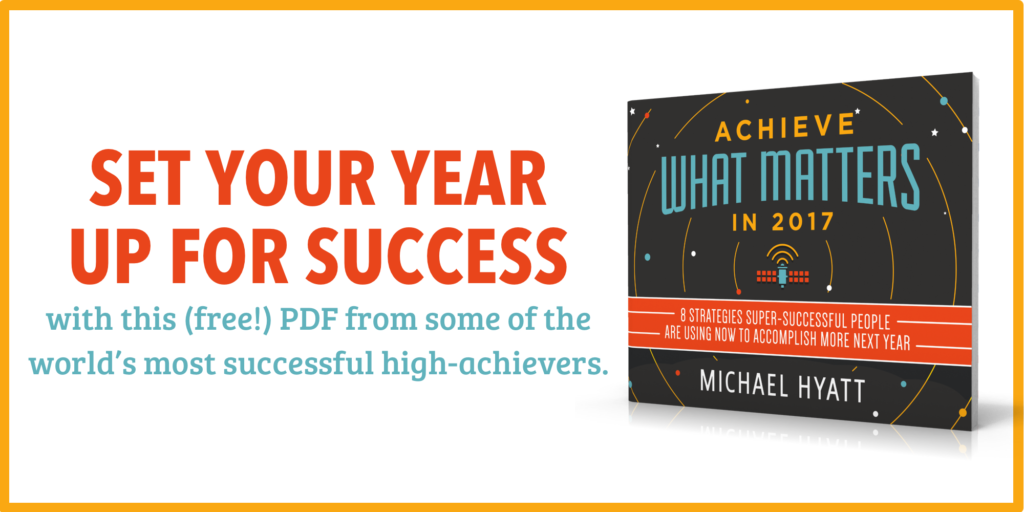 What if you could learn the secret strategies that highly effective, world-class leaders use to plot their course and ensure success year after year?
Now, you can..

Michael Hyatt asked several high achievers what they do to set themselves up for a great year, people like Tony Robbins, Jeff Walker, Chalene Johnson, and Dave Ramsey. As their responses came in, you might surprised by how much their answers overlapped.
He breaks them down into 8 categories that overlapped. Think of them like "best practices." These 8 areas can function like a road map to anyone who wants to become a high achiever too!
Here are just a few..
1. REFLECT ON THE PAST YEAR
You can't plan your ultimate destination without first knowing where you are. Think of it just like an airplane. Before take off, the pilot needs to sets of coordinates. Destination and Origination.. or Where you are now! The only way to get an accurate picture is to take a good look around.
2. SET COMPELLING GOALS
If you want to move, you've got to set goals that truly MOVE you! Forget where you're going, because what we're really talking about now is WHY? Let's face it, there will be bumps in the road. You're going to hit a few detours. But the only way to stay on track and not lose focus is to stay plugged in to the raw emotion that powers your dreams. It;s the fuel for your vehicle.
3. BREAK IT DOWN
You may have big dreams and massive goals. But if you really want to see them become a reality, it's time to chunk them down into bite-sized pieces. You've probably heard it before, but the best way to eat an elephant is.. "one bite at a time!" Think of this as the turn by turn directions on your GPS for the year.
Want the entire list of the 8 Secret Strategies Super-Successful People Are Using Now to Accomplish More Next Year?
Just click the button to register for free and enjoy the free eBOOK.

Comments
comments