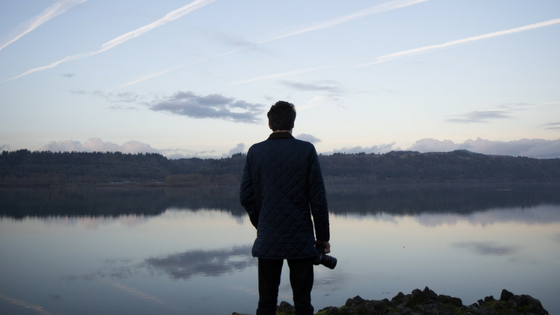 Sometimes motivation isn't enough. It's not all sunshine and rainbows and inspirational Instagram memes 24/7. Sometimes you need a secret weapon. In this post I share 4 Steps To Success so you can crush your goals even when you don't feel like it.
Because any goal worth having isn't going to be easy. They should challenge you. Push you. Propel you out of your safe-zone. But no matter how tough, the framework doesn't have to be. It's simple.
It's 4:30AM and the alarm goes off.
I did NOT wanna get out of bed today.. It was warm comfy and inviting. The foot of snow outside my bedroom, not so much. I mean, eventually I'd have to make my way to the gym and suffer through another workout, but maybe I could do it later. Or so I told myself.
But I made it. And here's how.
4 Steps To Success
1. Prepare – Last night I laid out the gym clothes I'd need for my workout. I also got my water bottle ready. Headphones, check. My keys, wallet and everything I'd need.
So there's no guessing and better yet, no thinking when that alarm clock goes off. because that's where it gets sticky. I need to just get up and go. On Auto pilot.
2. Take The First Step – "But I don't wanna.." Here's where I start negotiating with myself. "Maybe I can workout later," I bargain. But eventually I land on, "Just get up. Get out of bed. And get going" And I do. Now that I'm up I go to the bathroom and put my gym clothes on. Then..
3. Take The NEXT Step – This isn't rocket science..And if it was it wouldn't work. Just simply take the next step.
On this frigid, dark, winter's morning I move to my water bottle. It's laid out from the night before. I fill it up and shake up some "pre-workout" mix, sit down and start sipping. Eventually, this concoction of special sauces starts to fire me up. And I can sit no longer. That's when I get off my back side and get out the door. Because the next step is just as crucial as the 3 before..
4. Keep Moving – Now that I'm moving, I keep moving. I'm out the door and in the car. On my way to the gym. When I arrive, there's no more thinking. No bargaining. I just take another step and another step. (You get the picture) Until the workout is done. And pretty soon, I'm feeling pretty amazing. The momentum starts to work in my favor.
The secret is, there is no secret. As the old saying goes, "How do you eat an elephant? One bite at a time."
Because that's how you do anything you don't really wanna do.. And Crush It!
Q: What do you do to get yourself moving even when the motivation is lacking?